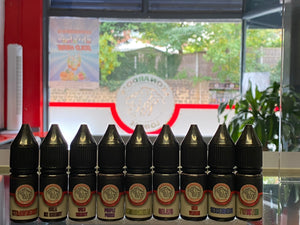 CBD 350mg Vape Juice
Vape with Leonardo's Juice..
Promote ease and mobility in joints and muscles. Soothe stiffness and claim restrained muscles: cannabinoids are potent and anti-inflammation agents, ideal for faster work out recovery and joint mobility.
Improve your sleep and wake up well rested: CBD promotes healthy sleep habits that help you relax and drift off into sleep and wake up feeling fresh all day.
Vape juice benefits:
Fastest Cbd absorption into your bodily systems
Vape juice made with simple pure ingredients
Smooth vaping experience
Our vape juice is available in either a 10ml bottle with a 350mg CBD total content.
For use only with e-cigarettes. DO NOT mix with any other e-juice.

Zero THC