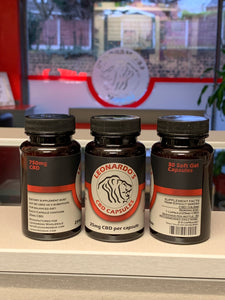 CBD Soft Gel Capsules 30 pcs
Cannabidiol (CBD) from Hemp Extract, MCT oil, Pharmaceutical grade gelatin
All the goodness of our premium quality CBD oil, wrapped up in one convenient gel capsule. This product offers you the on-the-go versatility you need, while supplying you with all the health benefits to carry through.

Our CBD Capsules are made from the highest quality industrial hemp cultivated in Europe. We use organic extraction to obtain a naturally pure product, without any chemical solvents.

Gel Capsules per bottle: 30
25 mg CBD per Capsule = 750 mg CBD per bottle
We deliver quality, consistency and transparency.

NO Harsh Chemicals, NO Pesticides, NO Heavy Metals

Gluten Free, Vegan Friendly, NON GMO

Full-Spectrum, Less than 0,2% THC, Lab tested

Premium Grade, Made in EU, EU certified seeds
Recommended daily dose: 2 - 3 capsules
Storage: Do not refrigerate. Store away from excessive heat, light and humidity.
Caution: Do not exceed suggested dosage. This product is not intended for pregnant or lactating mothers. Individuals taking medicines or having any medical concerns should consult with a health practitioner prior to use. If any adverse reactions occur, discontinue use and consult your doctor. Seek medical advice if you feel unwell.
Keep out of reach of children and pets.
This product is not intended to diagnose, treat, cure or prevent any disease.
Dietary supplement must not be used as a substitute for a balanced diet.